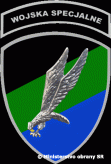 08.02.2017
On the 8. february 2017 Representatives of the Polish SOF HQ visited Training Center Lest (TC Lest). They were warmly welcomed by COL. TOTKOVIC, who highlight the current cooperation with the POL Armed Foces in joint projects, as well as participation in international exercises in regard to use of TC Lest. TC Lešť provided POL SOF HQ representatives with an appropriate infrastructure and training facilities information which meet the required standard for the realization and accomplishmen...

02.11.2016
The practical part of the 3rd cycle of Introductory Training Course took place in the premises of Training Center Lešť (hereinafter "TC&...

17.06.2016
The two-day visit of the German Special Operations Forces Command (GSOFC) members has started the planninig process of possible exercises...

01.04.2016
The Director of the Training Centre Lest Ján RAUSA and his deputy Colonel Robert TOTKOVIČ the April 1, 2016 welcomed Ltc BODE, Ms. RYBINSKI and Maj RATKOVSKÝ members o...

08.03.2016
Capability Package Force Integration and Enhanced Training (FIET) is a part of NATO Readiness Action Plan (RAP) and representatives of NATO Allied Command Transformati...

03.12.2015
American Civil Affairs team (Civil-Military Cooperation) accompanied by members of CIMIC/PSYOPS team of Slovak Armed Forces has been acquainted on December 3, 2015 wit...