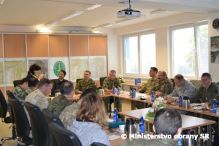 01.10.2019
On September 24, 2019, members of the Military Diplomatic Corps accredited to the Slovak Republic visited the Training Centre Lešť. On the grounds of the TC Lešť. military attachés were welcomed by the Director of the Centre Ing. arch. Anton MASTALSKY and Deputy Director LTC Ľuboš Guľáš. PhD. After the presentation of TC Lešť, the military delegates moved to Barrier of Infantry Range to hold the annual Military Diplomatic Corps Shooting Competition. &nbsp...

30.08.2018
On August 30, 2018, members of the Military Diplomatic Corps accredited in the Slovak Republic visited the Lešť Training Centre. On the ground...

08.02.2017
On the 8. february 2017 Representatives of the Polish SOF HQ visited Training Center Lest (TC Lest). They were warmly welcomed by COL. TOTKOVIC, who highlight the c...

02.11.2016
The practical part of the 3rd cycle of Introductory Training Course took place in the premises of Training Center Lešť (hereinafter "TC&...

17.06.2016
The two-day visit of the German Special Operations Forces Command (GSOFC) members has started the planninig process of possible exercises...

01.04.2016
The Director of the Training Centre Lest Ján RAUSA and his deputy Colonel Robert TOTKOVIČ the April 1, 2016 welcomed Ltc BODE, Ms. RYBINSKI and Maj RATKOVSKÝ members o...

08.03.2016
Capability Package Force Integration and Enhanced Training (FIET) is a part of NATO Readiness Action Plan (RAP) and representatives of NATO Allied Command Transformati...